"I'm going to live the life, I sing about, in my song,
Everyday, everywhere, some may watch me, some may spite me,
Say I'm foolish, but I don't care, I can't sing one thing, and then live another,
Some mistake me, some may hate me, because I want to get it right."-Live the Life I Sing About-
*
*Words and Music by T.A. Dorsey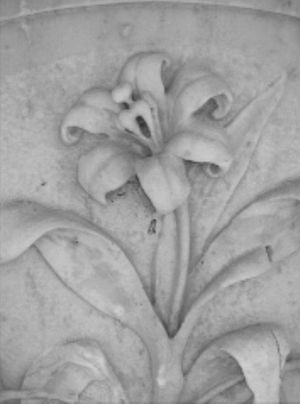 Photo: Arielle Grace Harrison -Rock Lily-
© 
February 2011
JOE COCO
is a versatile performer with infectious energy.  An American singer, songwriter, and guitarist, he has performed extensively throughout the United States and in Europe since 1970.  Mr. Coco has performed in such "intimate spaces" as New York City's
Folk City
, L.A.'s
Troubadour
, multiple Italian Blues festivals, and in Switzerland's famous
Atlantis 
and
La Trace
clubs.  His songwriting style reflects like a shattered mirror.  His main focus is to create music that has a bleeding, bubbling undercurrent, often with poignant, satirical images.  Joe Coco has has a repertoire that spans his entire life, a prolific songwriter,
650
songs and
41
albums since 1979, many of his songs reflect a strong social conscience.  A native of Passiac, New Jersey, Joe has lived in Arizona for eleven years and in Italy for six years.
In 2012 a limited-edition of
50
DVDs entitled
The Remastered Collection
were issued featuring four video productions of Coco's instrumental soundtracks that accompany his paintings and drawings.  The films represent the earliest use of MAC and PC digital desktops in 1984.  This work is in the museum collections of:
The Whitney-
NY;
MOMA
-NY and San Fransico;
NMA
-Newark;
Guggenheim
-NY;
PHILADELPHIA
Museum of Art
;
Michener
-Doylestown;
ALLENTOWN
-PA;
BNA
-BOSTON;
PRINCETON AND RUTGERS
Art Museums
-NJ;
PATERSON
and
Lambert Castle Museums-
NJ;
Cold War Museum
-DC, etc.
In 1998 and 1999, Joe appeared as a principal soloist in the Italian production of
TOMMY
by
The Who
, singing and playing harmonica on
Eyesight to the Blind
.  The national production hit 22 cities in 98 performances, with a cast and crew of 40.  Directed by
Massimo Piparro
, Planet Musical distinguished itself by producing the first rock-opera in Italy,
Jesus Christ Superstar
, in 1993.
In 2011 Joe released
River Town - The Little Universe
an album about village life along the Delaware River in Bucks County PA, where he currently lives.  It is the bookend CD to
SMALL WONDERS 
from 2009.  Coco's
LIVING CHAIN
from 2010 is about redemption through the uncharted territory of life after death. 
GRANDFATHER'S LAND
from 2009 is based on Coco's grandparents' journey to America in 1910.  The album is a comment on immigration issues the USA faces today, with tolerance and integration as central themes.  Coco's music has a strong social conscience, as in 2004's
SCARLET ROAD
, a response to the Iraq war.  It charted to
#1
at
KTOO
in
Juneau, Alaska
.
Joe has a passionate blues feel with a strong emotive voice, compared to James Taylor's but with a Sam and Dave edge.  Driven by his tight, rhythmic guitar, he flat or finger picks melody and bass lines.  His trademark slide guitar has a razor-sharp touch.  Headlining Blues festivals in Italy, Coco has opened concerts for the
legendary
(a
thousand
times legendary
)
B.B. King
,
Big Bill Morganfield
-Muddy Waters' son-, 
Fontella Bass
,
'Keb Mo'
and
BIG TIME SARAH
.  Joe's
"Born with the Blues
" appeared on partner Michele Lotta's King Biscuit Time CD
LOW FIDELITY
, winning Italian Blues Album of the Year 2001 -
Buscadero- 
National Rock Magazine, Italia.  Living in Sicily between 1993-97, he headlined concerts, while opening for
FONTANELLA BASS
("
Rescue Me
"),
Mario Venuti
,
Fabio Treves
(
Father of the Blues in Italy
),
Nick Becatinni
,
Herbie Goins
, and Belgium's
PERRY ROSE
.
Coco's first success came in 1978, opening concerts for
B.B. KING
and
COMMANDER CODY
in Flagstaff and Phoenix, Arizona.  This led to his first album
NEVER SATISFIED
and the attention of
Charles Kopelman's Entertainment Company
in New York where his songs were pitched to
BARBARA STREISAND
,
JUDY COLLINS
,
LORETTA LYNN
, and
GLEN CAMPBELL
.  While recording with
Warner Bros. Music
in New York from 1980 through 1983, Joe toured the Northeast college concert circuit opening for
JOHN HAMMOND
and
LEON REDBONE
.  In 1997,
BLUES HOUSE
-
A BLUES OPERA
entered the collection of Cleveland's
ROCK N ROLL HALL OF FAME
.  Cited as one of the first blues operas ever written and recorded (with
Michele Lotta
(Best harmonica in Italy -
Il Blues Magazine
), the double CD is also in the prestigious archives of
W.C. HANDY FOUNDATION
, Memphis;
FOLKLIFE CENTER
of the SMITHSONIAN
, Washington D.C.; and others.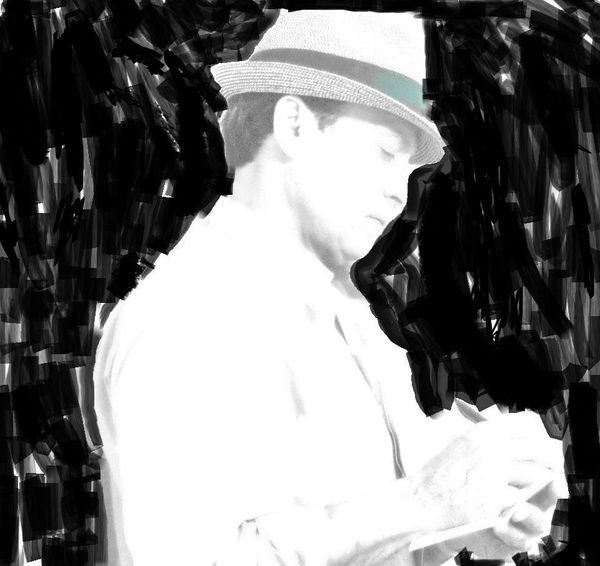 Photo:
Arielle Grace Harrison -Perfect Stranger- ©
April 2012
Editing Process:
Arielle Grace Photography
Since 1995, Joe's fruitful collaborations with Michele Lotta have continued to flourish.  With the addition of
Roger Wayne Parr
(Drums and Guitar) and
Justin Lee
(Electric and Upright Bass) albums
SEPTEMBER SKY
,
INCANDESCENT
have been highlights. 
GARDEN STATE
profiled the love/hate relationship Joe has with his home state of New Jersey. 
ARIZONA-
The Ballads
, a double LP from 1989, features songs about culture shock and coming of age while living in Flagstaff, where Coco recieved a
Bachelor of Fine Arts
degree from Northern Arizona University in 1974.  Collaborations with
Luis Tomas
of Arizona feature Rock Jazz instrumentals on
SOLAR ECLIPSE AND A NUCLEAR HOLOCAUST
, which saw the single
Pecho
air nationally on the video program
VH1
.  Anthropology, which Joe studied in his first year of college, led to an interest in mythology and the archetypal themes that would eventually embrace his art and music.  Living in Flagstaff, Arizona through 1980, Joe produced
eight
one-man exhibitions while performing regionally.  The influence of his studio partners of five years,
John Running
(photographer) and
Luis Tomas
(artist-designer), gave him an appreciation for Native American, Mexican culture, mythology, and color.  Such influences can be seen in Coco's painting series
SOUND IMAGE / FALLS RIVER
, concerning synesthesia.  He combined his original instrumental music composed for the art as a soundtrack to his original video.  Joe has released four other instrumental albums reflecting his melodic, atmospheric new age jazz which accompany his drawings and painting exhibits:
SILVER LAMP - THE FULL MOON SERIES
2007;
IF WALLS COULD SPEAK
1994;
SOUND IMAGE / FALLS RIVER
1986; (with
Polar Levine
) and
FOLIAGE
1982.
THE LAST FULL MOON SERIES
is a
HUGE
highlight of Joe's career.  Began in 1972, each painting is created in December when the full moon rises.  This is an autobiographical project that includes Coco's fascination with astrology and astronomy.  The theme might be the first dedicated to the study of the moon by a single artist.  He is the Assistant Project Director and Press Director for the
FIRST INTERNATIONAL SYMPOSIUM OF ART AND INVISIBLE REALITY
, and has participated in many other projects over the years.
Having composed over
700 songs
spanning
41 albums
since 1970, Joe is a rare musician who has combined his music with stellar accomplishments in the visual arts.  With a
Master of Fine Arts
degree from
Rutgers University
in 1986, he has had
65
solo exhibitions, including four International shows of his series
IF WALLS COULD SPEAK
(created in Portugal and Sicily, between 1992-97).  With over
450
works in over
275
public and private collections, Joe's work is represented in
GALLERIA NAZIONALE DE CONTEMPORANEO
-Rome;
GULBENKIAN MUSEUM
-Lisbon; and the
INSTITUTE OF CONTEMPORARY ART
-Boston.  Joe Coco's capabilities are the wealth of an inspired, tenacious, visionary talent.                
What Mr. Coco does not like to admit is that he, himself, in all of his entirety, is 
THE
DEFINITION
of a
LEGEND
.  To some, Joe Coco is just a
professor
... To others, he is just a
musician
... To those who have been graced with his presence, he is a
whirlwind
... To those who know him...
THERE IS ONLY ONE JOE COCO
.  Secretly, he is the Sicilian
Superman
, especially when he wears a fedora and a fancy Italian jacket. 
Favorite Band - Incredible String Band 
Favorite Song - "These Days" - Jackson Brown
Favorite Album - "Toni Bennetts Greatest Hits Volume II" - Toni Bennett
Favorite Guitar Player - Jeff Beck
Favorite Bass Player - Ron Carter
Favorite Drummer - Buddy Rich
Favorite Keyboard Player - Keith Jarret
Favorite Singer - Ray Charles
Favorite Song on Hindsight - "Great 2 B. Goode"
Favorite Song on Second Chance - "Angels Cradle"
Favorite Song on Triple Threat - "Pinwheels"
Weirdest Place I've Ever Played - Under a cabana porch in Sicily
Favorite Gig - Atlantis Club, Basil, Switzerland
Greatest Musical Moment - Concert at Milazzo Castle
Favorite Guitar - Taylor 710CE
What's in my CD player - "Hindsight" - Roger Wayne Parr of course!!

Editing/Editorial Copy: Arielle Grace Harrison / Arielle Grace Photography